No Matter Who Wins Mayweather-McGregor, the Biggest Loser Is HBO
The final bout of Money Mayweather's career is also his last chance to stick it to the doubters one more time.
Floyd Mayweather Jr.'s defensive genius has made him the easiest boxer in history for opponents to miss. Early on, it was the high-powered promoters and executives who failed to accurately assess his earning potential. Money Mayweather still hasn't forgotten.
For the last bout of his career, Mayweather is avenging the perceived slights he suffered at the beginning of his illustrious career. Renowned as a fiendishly driven gambler, the greatest bet Mayweather placed was the $750,000 he laid down on himself in 2006, when he rejected an $8 million contract for a fight and bought out his contract with Top Rank in order to promote himself. Though his opponent this weekend will be MMA star Conor McGregor, a welcome ancillary target for Mayweather is HBO.
With no real challengers remaining in boxing this year, Mayweather turned to the UFC and its biggest star, Conor McGregor. According to insiders, he timed the announcement and staged the fight in a manner designed to deal maximum damage to his former network partner, HBO, and two of their biggest pay-per-view fights of 2017.
Begin with the choice of an Aug. 26 fight date. "It's perverse," says Jim Lampley, HBO boxing's longtime commentator, from his home in San Diego. "If there's one indelible, accepted principle in operating pay-per-view, it's 'never before Labor Day.'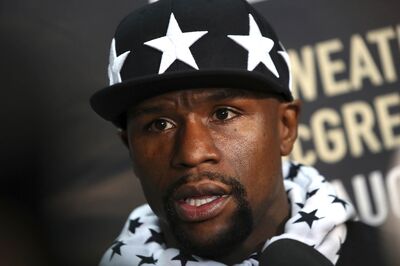 That's why, for the upcoming HBO bout between middleweight titleholder Gennady Golovkin and former champ Canelo Alvarez—one of boxing's best tilts, on paper, in years—the channel jumped on Sept. 16 to maximize the number of pay-per-view buys, assuming that Showtime would choose a later date in the fall for Mayweather-McGregor.
Instead, Mayweather-McGregor was set for Aug. 26, creating a tidal wave of publicity that is currently drowning the lead-up to the Canelo-Golovkin fight. To rub salt in HBO's wound, Mayweather announced his fight against McGregor on June 14, three days before Andre Ward, an HBO world champion fighter who inherited the pound-for-pound crown from Floyd, fought a rematch against Sergey Kovalev. In 30 years of pay-per-view TV, only two fights performed worse than Ward-Kovalev II. Mayweather's announcement didn't help those numbers.
Stephen Espinoza, executive vice president of Showtime Sports, has said in previous interviews that the match came together quickly and that the fighters simply didn't want to wait until November to rumble. (Sources at Showtime were unavailable to speak on the record at press time.) Among media watchers, the idea that the last weekend in August was an "open runway," with no sports competition, could have made it an irresistible, if counterintuitive, target date.
That is small comfort to the folks at HBO. "Everybody in boxing is doing the best they can, without being overwhelmingly defensive, to make the point that there's a great fight coming up," Lampley continued. "But it's not on Aug. 26. It's on Sept. 16."
A 'Slave Contract'
Mayweather's beef with HBO goes back to 1997. Lou Dibella, then an executive at HBO, remembers how the brash 20-year-old, then-126-pound Floyd Mayweather Jr. responded to the contract offer Dibella had just pushed across the table. It would guarantee Mayweather seven figures each for a series of fights. In Dibella's telling, Mayweather glanced up in disgust. "This is a slave contract," the fighter said.
True, Mayweather had emerged the year before as a blue chip prospect, an Olympic bronze medalist from the Atlanta Olympic Games who hailed from one of the most accomplished boxing families in the sport. But he had yet to find a fan base or demonstrate any ability to sell tickets—let alone pay-per-view shows.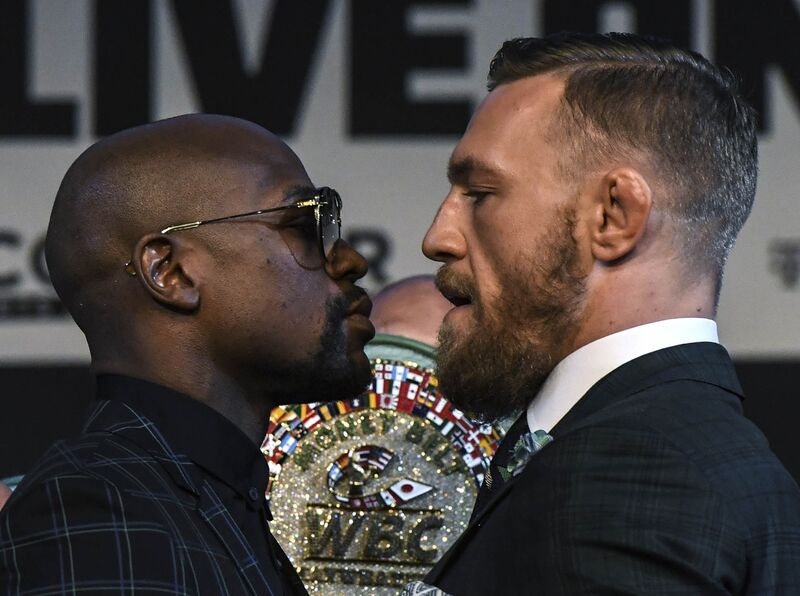 Mayweather had fought and won 12 times in the previous year, but his defensive, counterpunching style didn't stir the kind of excitement boxing fans craved in the wrecking ball era  of Mike Tyson. Nor was there any indication that Mayweather's star power would ever compete with that of boxing's undefeated "Golden Boy," Oscar De La Hoya, second only to Tyson.
Not only had De La Hoya, an Olympic gold medalist, owned world titles in four weight classes, he had just defeated a Hall of Fame legend in Pernell Whitaker. With boxing's audience trending heavily toward Latino demographics, Mayweather's risk-averse fighting style was widely recognized as anathema to those markets that prioritized action and excitement over technical chess matches, no matter how sublime, in the ring.
The $750,000 Bet
Mayweather eventually signed, but as soon as he had the leverage to leave, his started his own production in 2006. He wanted HBO to guarantee him $20 million to fight De La Hoya, and the network refused. So he paid $750,000 to get out of the deal, and if he couldn't sell pay-per-view buys on his own name, he would ruthlessly stalk those who could.
He landed his first self-produced fight on June 25, 2005, against boxing fan-favorite Arturo Gatti, whom Mayweather publicly chided as a "club fighter." He promptly disposed of Gatti with such ease, "club fighter" seemed a charitable designation. After winning two more pay-per-view fights, Mayweather lured De La Hoya into a dream match on May 5, 2007; it became the most lucrative fight in the history of the sport, generating 2.4 million pay-per-view buys. Two years after HBO had refused to give him $20 million to fight De La Hoya, Mayweather had arranged it on his own—and made $25 million.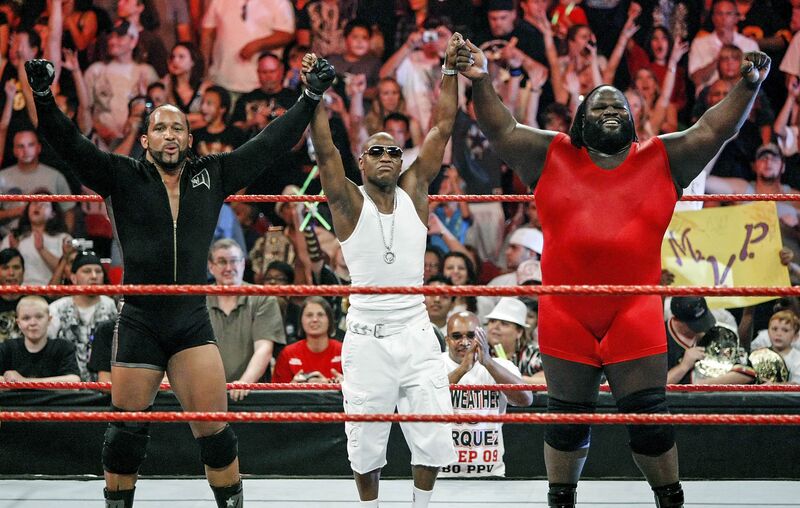 From there, he made another calculation that none of his detractors could see for themselves. If Mayweather could never sell tickets or pay-per-views with fans cheering him on to win, he would sell even better by enticing the public to pay for the opportunity to watch him lose. "Pretty Boy" Floyd Mayweather Jr. transformed into "Money Mayweather." He gained exposure on the WWE and Dancing with the Stars.
He fought 11 more times on pay-per-view, generating over $1.3 billion in pay-per-view revenue that helped make him the highest-paid athlete in sports. Of boxing's five highest-grossing pay-per-view fights, Mayweather owns the top three. If his upcoming bout against McGregor brings in an audience of 50 million people as expected, he will have produced the three biggest pay-per-view events of all time in the past two years.
A New Model?
Mayweather's opponent in the ring, Conor McGregor, is expected to earn as much as $100 million, win or lose. (Mayweather's cut is anticipated to be at least twice that.) All evidence points to the fact that McGregor is preparing to emulate the 40-year-old's business model.
And McGregor doesn't appear to be eager to join the HBO fold either. In 2014, he took a break from training in Las Vegas to watch the rematch between Mayweather and Marcos Maidana. That was a year after Mayweather turned his back on a highly lucrative HBO offer and signed a six-fight, $250 million deal with Showtime that effectively anointed the network as boxing's premium brand."He stole my blueprint and ran with it," Mayweather said of McGregor during a session at his gym on Aug. 10.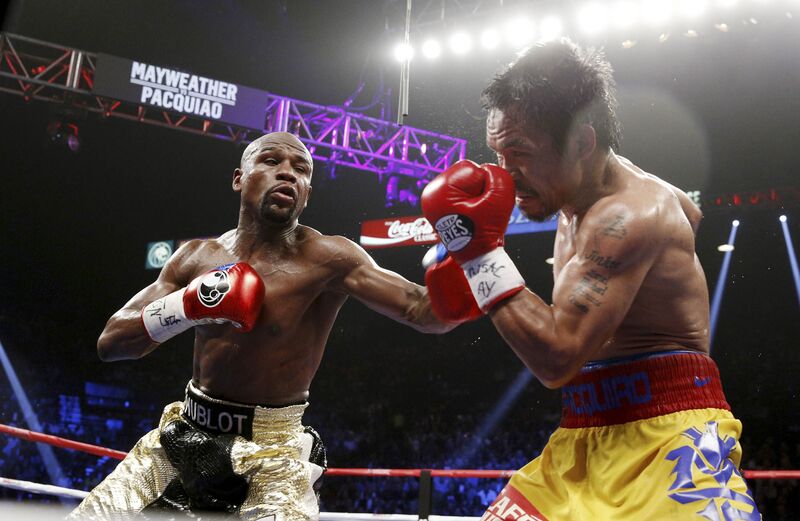 That contract had essentially shut the door on any possibility for a Mayweather-Pacquiao mega-fight, which for four years had been the biggest fight available. But once Manny Pacquiao, boxing's second-biggest star after Mayweather, lost by one of the most iconic knockouts of the decade to Juan Manuel Marquez, Mayweather had the leverage. He chose to calcify the Cold War-type dynamic between Showtime and HBO even further by fighting only on the lucrative dates available for pay-per-view, daring HBO to compete against him.
It seems that there's never enough for Mayweather. Even for a fight that is largely being dismissed as a pocket-lining scheme, he'll still earn more in a night than anyone in the history of sports. The fight itself will likely generate more than $500 million in pay-per-view revenue. The gate will reach nearly $100 million, toppling the previous record of $72.2 million for the Pacquiao fight.
International broadcast rights could bring in upward of another $100 million. Tens of millions in additional sponsor dollars are readily available. Yet Mayweather still needs others to fail. "I don't know how far back you have to go to find a fight so guaranteed to generate combustion," Jim Lampley said with exasperation of his September Canelo-Golovkin fight. "You almost never see matchups this good. A can't-miss fight. But that all played into making it too great a target for the Mayweather-McGregor attraction to resist."
The last time Mayweather lost was in 1996, in a highly controversial decision at the semi-finals of the Atlanta Olympic Games, to Bulgarian Serafim Todorov. Even the Egyptian referee for the bout assumed Mayweather had won the bout and held Mayweather's hand aloft just as Todorov was announced as the winner. It would seem a mistake to bet against him now.
Lou Dibella still goes back to that meeting 20 years ago. "I was born five years after Rocky Marciano knocked out Archie Moore and retired undefeated," he says. "Look at all the great fighters who came after Marciano. How many from all those great fighters walked away undefeated? Only one of them did. Mayweather, that cocky kid in my office who promised he would, actually pulled it off. He's the only one in my lifetime who did it."